RV Storage Buying Guide – How To Install RV Covers Correctly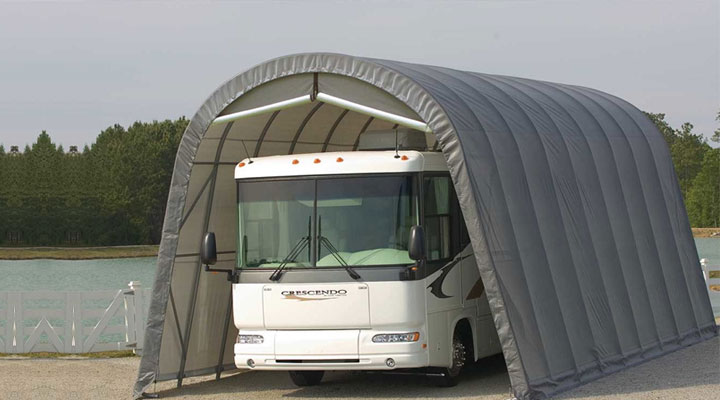 Keep your RV ready for any adventure with the right set of storage covers. Compare RV trailer covers, RV covers, and accessory covers to see how you can safely store your RV and protect your investment.
RV Storage Accessories
Storing an RV requires many of the same steps as storing a car. You'll want to prepare the interior, exterior, and mechanical features for months of sitting. These steps are especially important for winter storage, but can be useful for resting all year round.
The biggest concerns with a stored RV are moisture, pests, UV rays, and dust. There is nothing worse than opening your RV and being greeted with mice, mold, or a flat tire, so follow the proper storage steps and use quality covers. Here are some basic accessories that keep your RV safe in storage:
Full exterior covers
Motorhome sofa covers
Fifth wheel covers
Propane tank covers
AC covers
Dehumidifiers
Car cleaning accessories
All of these types of coverage have the same basic functions. They are designed to protect your investment from rain, dust, UV rays and moisture. Quality covers do this using a multi-layered design.
The inner layer is soft enough to prevent scratches when you put on the cover. Other layers add UV and water resistant properties while remaining breathable. These characteristics are crucial for storage in areas with temperature variations. Most trailers and RVs are stored outdoors, so a breathable outer cover is a great option.
Look for a coverage or a set of covers for your specific vehicle. Tire covers prevent fading and damage from direct sunlight exposure. The covers of air conditioning units and propane tanks can tighten and prevent pests from settling in your stationary vehicle.
Remove all food and water from inside your stored RV. Consider placing a dehumidifier there for long term storage to avoid mold problems.
Clean the exterior of your recreational vehicle before storing it, just like a conventional vehicle. A clean exterior with a cover is less likely to suffer from scratches and other issues.
How to properly install RV covers
The most important step in installing an RV cover is purchasing the right size. Do not try to stretch a tarp to fit it or use a large, bulky tarp on your compact trailer. Quality covers reduce or eliminate the need to crawl under your RV to set them up, which is a handy feature.
Search Motorhome covers with openings to access your RV when stored. Covers with adjustable clips and zippered panels are easy to attach firmly to the make and model of your RV.
Carefully follow the manufacturer's instructions for installing your blanket. Orient it in the correct direction before placing it on your vehicle. It may take some time to adjust all of the straps and adjust the elasticated hem at the edges. When properly installed, no part of the RV should be exposed and no part of the cover should be on the ground.
Shop for dynamic indoor and outdoor covers that adapt to the length and style of your RV today. Explore a wide range of professional covers, auto care items and other accessories to get the most out of your recreational vehicle investment
Characteristic picture: www.papworthpeople.com
Interactions with readers