Review of Kyo-Dophilus Intestinal Balance Support Chewable Tablets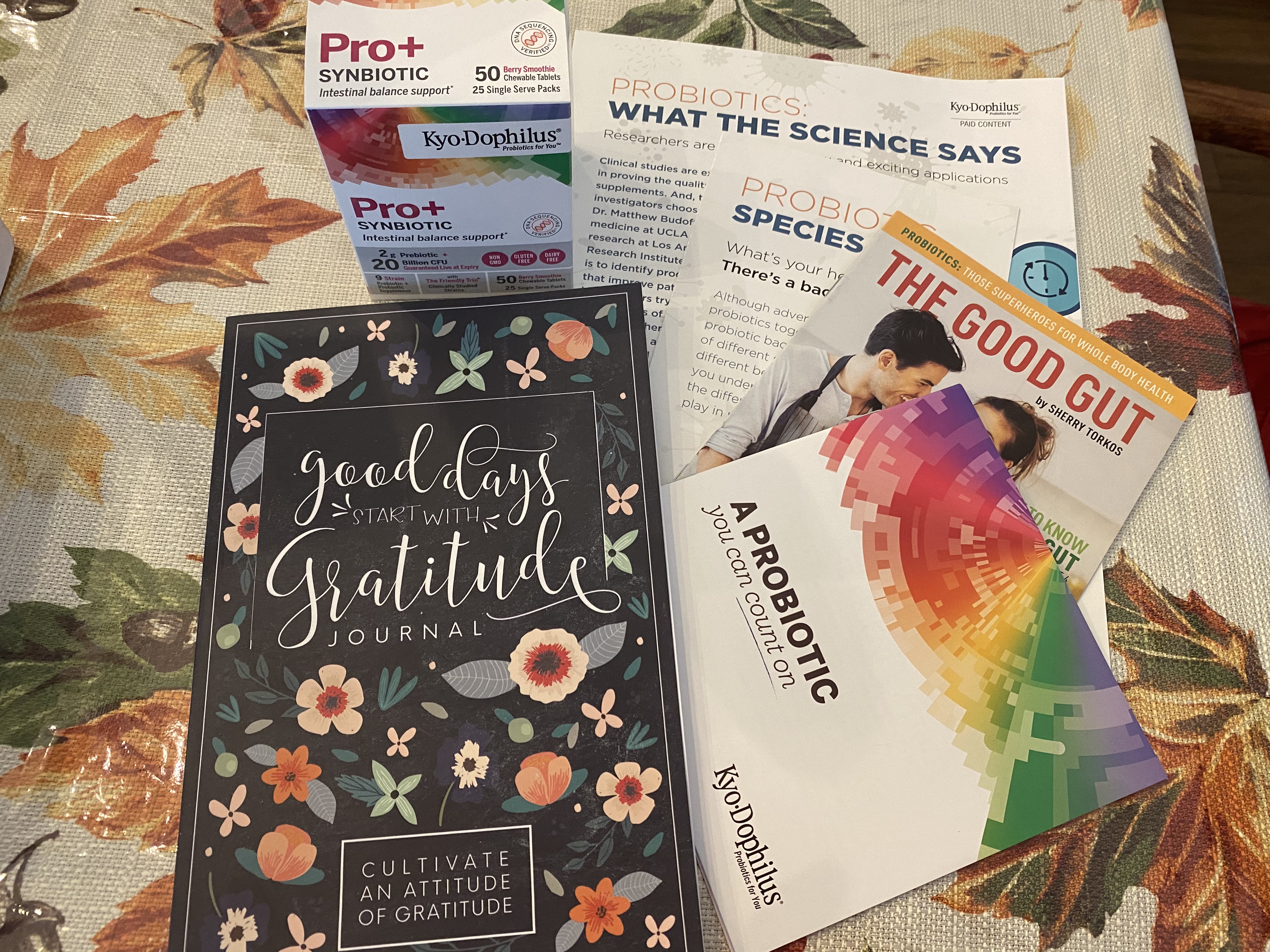 I received this product for free from Moms Meet (momsmeet.com) to use and post my honest opinions. Compensation for this post has been provided and this page may contain affiliate links.
Did you know that our gut is home to 100 trillion bacteria? These are important for maintaining our overall health and metabolism. Did you also know that 70% of your immune system resides in your gut? This is why you may have heard a lot about maintaining good gut health. In addition to eating a healthy diet through the consumption of fruits and vegetables, certain supplements can be taken to improve your gut health. In today's post I give you information and review about Kyo-Dophilus Pro + Synbiotic Chewable Tablets to improve your gut health.
What is Kyo-Dophilus?
Kyo-Dophilus Pro + Synbiotic are tasty chewable tablets that contain a specially selected prebiotic and a community of nine probiotic strains. They are formulated to support healthy digestive and immune systems. Under parent company Wakunaga of America, Kyo-Dophilus probiotics were first developed almost 30 years ago. Their goal is to share the health benefits of "good bacteria" to help maintain your overall well-being. The company continues to sponsor clinical studies that show their probiotic strains support the digestive and immune systems.
The Pro + Synbiotic helps maintain good colon health, relieve occasional digestive discomfort, and restore and protect good bacteria. You can find more information about the product here.
Background information
According to the National Center for Biotechnology Information (NCBI), a new era of medical science has opened with the realization of the critical role of the "forgotten organ", the gut microbiota, in health and disease. Another study from Harvard Health Publishing in October 2016 suggests that certain bacteria in your gut can prevent and treat many common illnesses. My latest research is from John Hopkins Medicine: "Hidden within the walls of the digestive system, this 'brain in the gut' is revolutionizing medicine's understanding of the links between digestion, mood, health, and even the way you feel. think. "
My experience
I received my kit two weeks ago which included Kyo-Dophilus Pro + Synbiotic, Science Says Brochure, Bacterial Species Guide, Good Gut Healthy Living Guide, and Gratitude Journal! This is all such good information to read and realize how important it is to have a balanced gut microflora, which includes so many different species of bacteria. Being a scientific person myself, I have always known the importance of microorganisms living in and on our bodies and was delighted to improve my own gut health.
The two delicious chewable tablets in separate packs can be taken with or without a meal, and I chose the afternoon as the time to help me remember to take them at the same time every day. I liked the taste of the berry smoothie and they are small and easy to take. It has only been a week since I started my tablets and my kit would last me almost 4 weeks with 25 individual packs. The serving size is 2 tablets per day.
Kyo-Dophilus Pro + Synbiotic are non-GMO, gluten-free, dairy-free and DNA sequencing has been verified. They contain 9 strains with the friendly trio. I'm so excited to be able to partner up and be one of the first consumers to try. I try to live a healthy lifestyle with a vegetarian diet, regular workouts and a positive attitude of gratitude. I was so happy to receive the gratitude journal which I also started using every night as part of my journaling with my teenagers.
Some facts about Kyo- Dophilus
Kyo-Dophilus Pro + Synbiotic are delicious tasting chewable tablets that are easy and convenient to take, with individual sachets and no refrigeration required
2. Synbiotic is a term used to refer to probiotics and prebiotocs, which are combined to provide a beneficial syngergistic effect in the microbiome.
3. Kyo-Dophilus Pro + Synbiotic contains a community of nine different probiotic strains
4. Pro + Synbiotic Prebotic contributes to the population of good bacteria by nourishing them to help maintain the bacterial balance.
5. They have been clinically studied and documented to significantly aid digestive support
6. Kyo-Dophilus Pro + Synbiotic can help maintain good colon health, relieve occasional digestive discomfort, and restore and balance beneficial bacteria
7. A balanced digestive system also promotes a healthy immune response and inhibits the growth of bad bacteria.
8. It is non-GMO and free of soy, gluten, dairy products and artificial colors and flavors.
9. Kyo-Dophilus Pro + Synbiotic typically retails for $ 43.99
Or buy
Kyo-Dophilus Pro + Synbiotic is a brand new product. Right now, they're available for purchase at local health food stores and online at Amazon, iHerb, and Vitacost.
Click the link / image below to buy on Amazon.
To summarize
To sum up, I'm happy to be able to try Kyo-Dophilus Pro + Synbiotic Berry Smoothie Chewable Tablets to improve my gut health. These are great additions to my healthy lifestyle of following a vegetarian diet and working out regularly. While a bit pricey at $ 40 +, people with poor or imbalanced gut health can definitely benefit from these supplements. I encourage everyone to learn more about the product, educate themselves and educate themselves before trying them.
Dear readers, we would love to hear from you. Share it if you're taking supplements for your health – whether it's the immune system, digestive system, nervous system, or integumentary system. To put it simply, if you are taking supplements to boost your immunity, digestion, brain / memory or for your skin. You can comment below or send an email to [email protected]