Toronto Maple Leafs vs Calgary Flames Prediction: NHL | 20.03.2021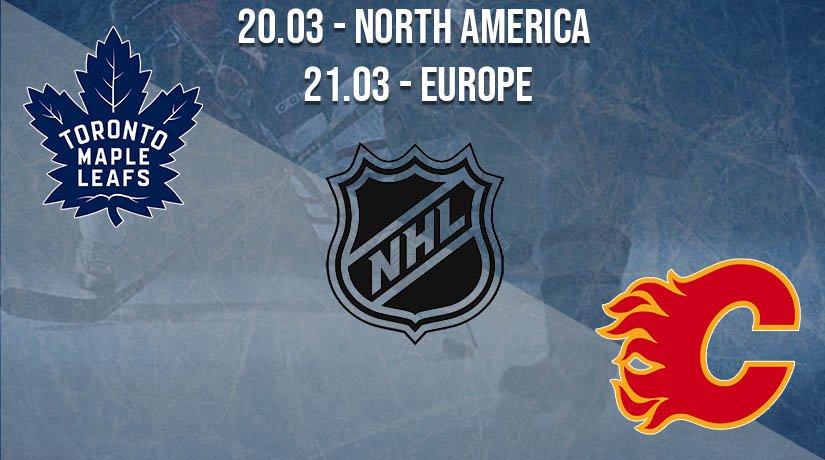 In the NHL 21 Championship, Toronto will meet Calgary, and our experts have prepared a prediction for this event.
Toronto Maple Leafs
Toronto is still the head of the northern division. However, the team is now in decline. In the last six games, the team has only been able to secure one victory against Winnipeg (4-3 OT), and in the rest of the cases, they have been defeated. Note that the Leafs lost to the Jets with a score of 2-5 on their home ice rink, then lost to Ottawa on the road – 3-4. Big problems for Sheldon Keefe's charges arise in defense as recently they have conceded at least three goals per game. Previously, the Leafs struggled in defense as well, but they made up for that with some excellent offensive actions. We would like to point out that the team have won ten out of 16 matches at home.
Calgary Flames
Calgary is in the penultimate row of the standings and will struggle to advance to the playoffs this season. The team is playing very volatile matches. For example, recently they had a three-game winning streak and appeared to be in peak form. However, after a series of successful fights, the Flames lost on their ice to Edmonton with a score of 3-7, once again playing poorly in their zone.
Toronto Maple Leafs – Calgary Flames Prediction
Toronto is in bad shape, as evidenced by the results of their recent games. And fights with Calgary for the Leaves are never easy. Toronto and Calgary are not doing their best on defense and are building their game on offense. Considering that the teams have faced each other several times this season and the Flames have given a worthy rebuff, we offer to bet on high totals in this game.