Greek-inspired meze board with Greek yogurt and feta dip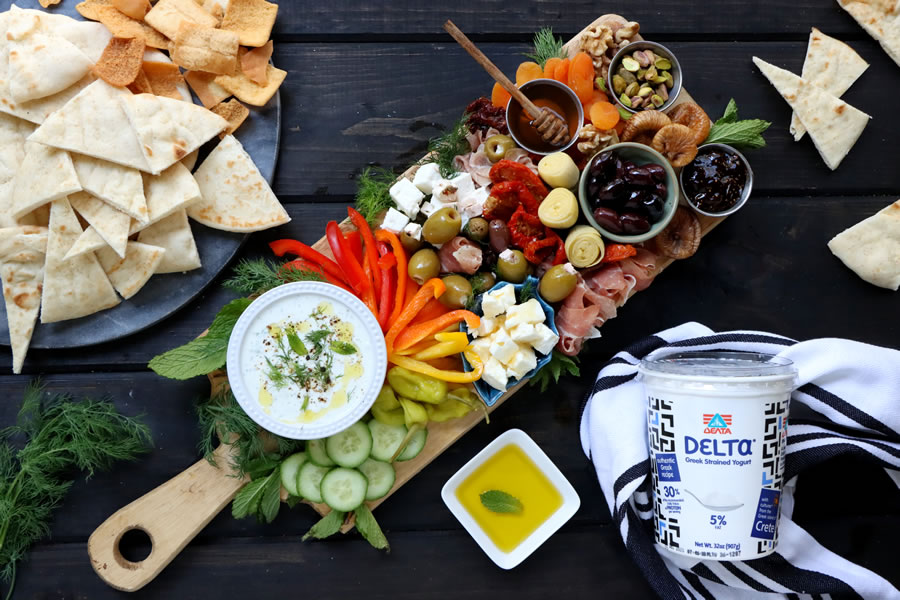 * This is a sponsored post written by me on behalf of Delta® Greek Yogurt.
Nothing seems better to me at the moment than packing a bag and flying straight to Greece. A beautiful Mediterranean country with a magnificent azure coastline, unspoiled archaeological sites, ancient towns, sunny weather, beautiful beaches and of course delicious cuisine – what not to love? Although my travel plans will have to wait for now, there is no reason why I cannot at least bring and enjoy the flavors of Greece in my own kitchen. And as someone who loves to graze, today we make a Greek inspired meze board.
The Greek equivalent of Italian antipasto or Spanish tapas, Greek meze (pronounced meh-ZEH) is a variety of small, savory dishes typically served on small plates in restaurants across Greece. Instead of a lot of small dishes, I decided to put together a collection of Greek-inspired noshes on a beautiful wooden serving board instead. If you and your family love Greek flavors as much as I do, this would make a great party appetizer or even a simple weekend dinner for when you just want a little taste of everything Greek from vegetables and cheeses to Kalamata olives, Greek honey, apricots, figs and traditional Greek nuts like walnuts and pistachios.
You can get all of the optional Greek meze board recommendations listed in the recipe card below.
With this board, I also made a delicious Greek yogurt and feta herb dip. With the preparation, this dip can be made in under 10 minutes. If you like feta cheese and Greek yogurt. It's not only perfect for dipping vegetables and fries, but it's also delicious on grilled meats, wings and more.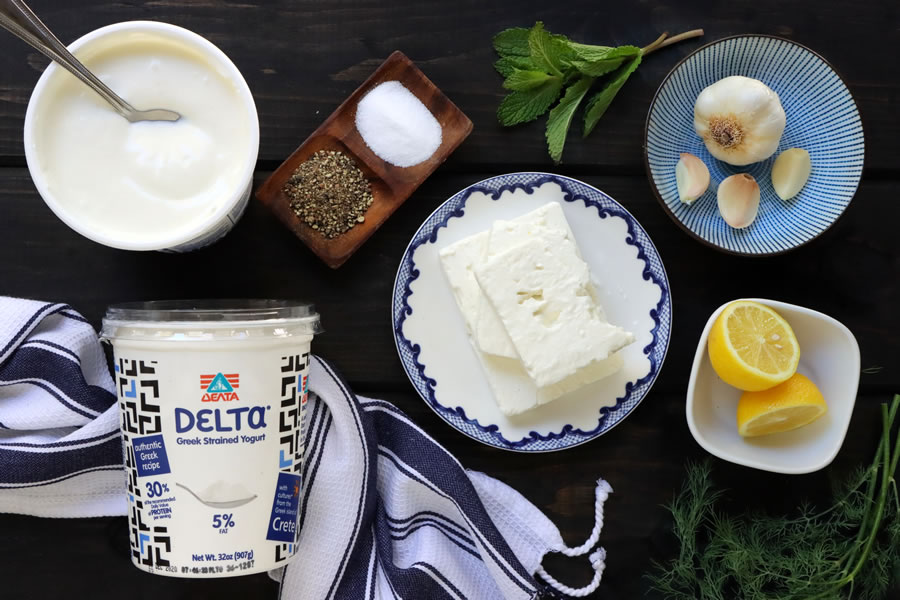 Ingredients needed for the Greek yogurt and feta herb dip:
NATURAL GREEK YOGURT: You can't make this dip without Greek yogurt and there really is no comparison to the genuine products. It's rich, creamy, high in protein, and super versatile. But did you know that most of the options on grocery store shelves these days aren't the real thing? That's right. Most of the big brands take shortcuts. One way to find out is to check the label.
If you see thickening agents such as guar gum, milk protein concentrate, corn or tapioca in the ingredients listed on the label it is not real greek yogurt.
Have you ever noticed how thick Greek yogurt is? For centuries, real Greek yogurt has been thickened by filtering it to remove its whey, a milk protein and a liquid byproduct of yogurt making that contains the sugar lactose. Taking the time to filter the yogurt well not only makes it super rich, but also reduces the amount of sugar in the final product.
That is why we strongly recommend that you try Delta® Greek Yogurt available in 5% or 0% fat. Newly introduced in the United States and made by a Greek company that has 70 years of experience making yogurt in Greece, Delta produces its yogurt the traditional way by double filtering to remove the whey instead of taking shortcuts with thickening agents. It's also made from the same cultures (the good bacteria that turn milk into yogurt) from Greece's largest island, Crete, that Greek families have used to make yogurt for centuries. The result is an all-natural, deliciously rich and creamy probiotic-rich yogurt that's better than any I've tried.
Made without artificial growth hormones, it's also GMO-free, gluten-free, and free from preservatives, sweeteners, and artificial flavors.
For this recipe I used Delta® Greek Yogurt with 5% fat, but honestly their 0% is just as wonderful if you are looking to cut down on fat and calories.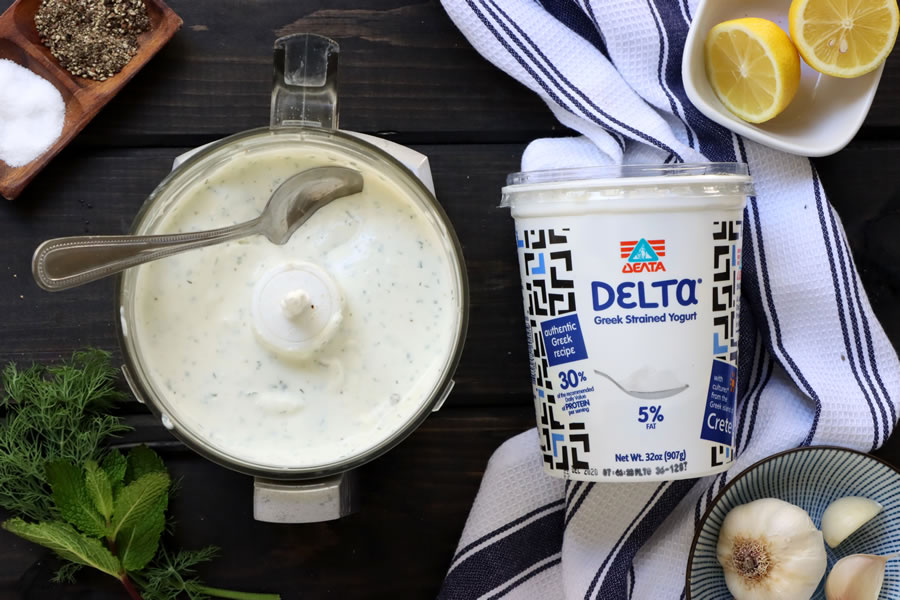 FETA CHEESE: Look for a Greek Feta cheese in brine if possible that is really creamy with a nice flavor and traditionally made from sheep's milk. A little drier and less creamy, pre-packaged American Feta and Feta cheeses that are already crumbled will work but may produce a slightly grainy texture when mixed.
LEMON: Fresh lemon juice brightens and balances this dip. A few tablespoons are enough.
GARLIC: A clove does the trick.
FRESH HERBS: We went with dill and mint, but you can also add fresh basil, oregano and parsley.
SALT PEPPER: Add both to taste. Your feta can be quite salty on its own and pepper may be all you need.
OLIVE OIL: Before serving your dip, add a drizzle of olive oil and some chopped fresh herbs.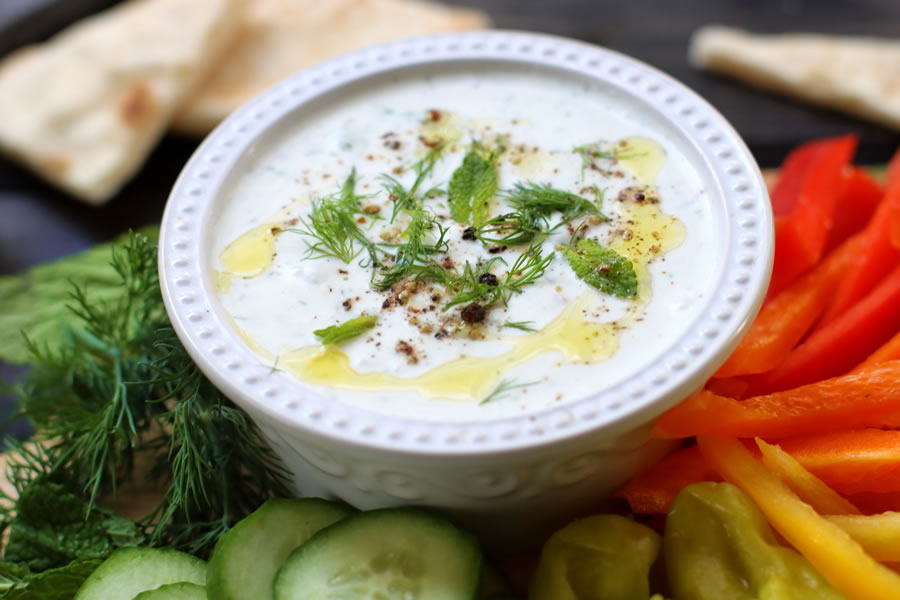 GET THE RECIPE!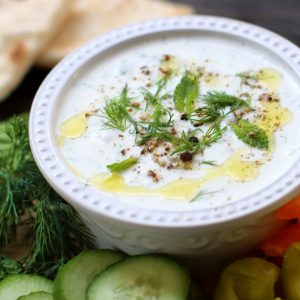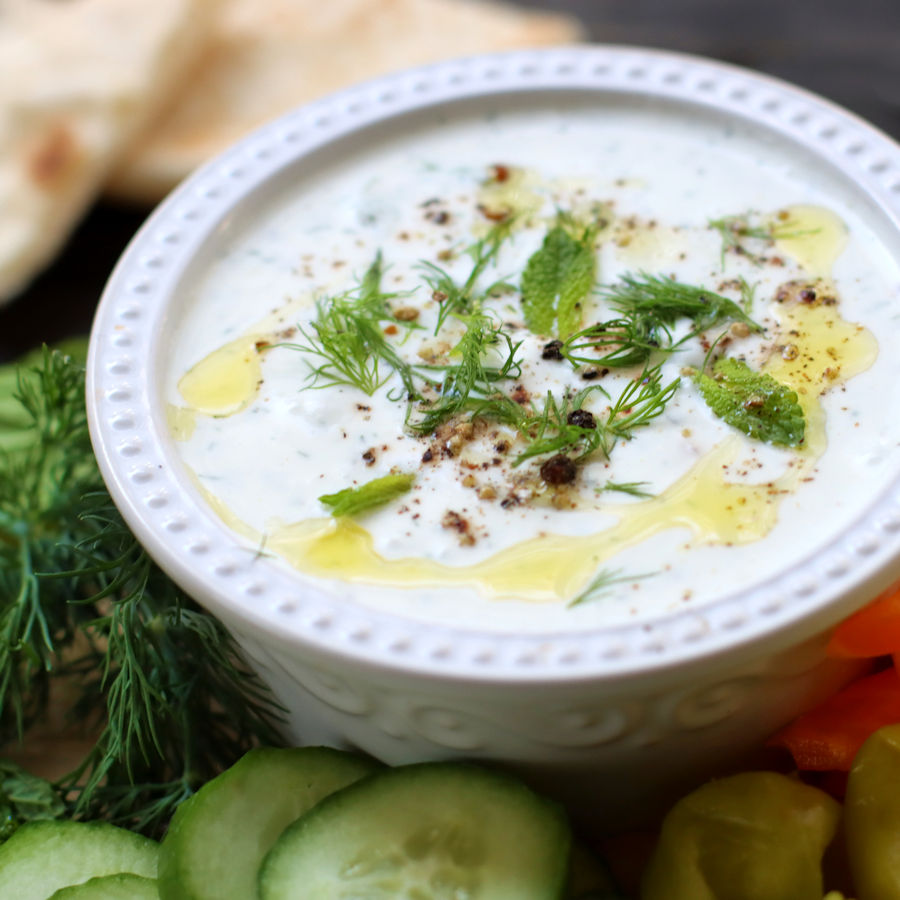 Greek yogurt and feta herb dip
If you love the flavors of Greece, try this easy-to-make mezze platter for your next gathering or for an easy dinner. All the ingredients for the plank are optional.
Ingredients
For the Whipped Greek Yogurt and Feta Herb Dip
1 Chopped off Delta Greek Yogurt
8 oz feta cheese
1 clove garlic
1 handful of mint, dill
olive oil
salt
Vegetables for the plank
sliced ​​cucumbers
Cherry tomatoes
dried tomatoes
Greek pepperoncini
sliced ​​peppers
Kalamata or other Greek olives
Breads for advice
toasted pita bread
pita chips
Nuts and candies for the board
figs
apricots
honey
nuts
pistachios
Instructions
Make the Herb Feta Whipped Greek Yogurt Dip
Make the Mezze table and put it all together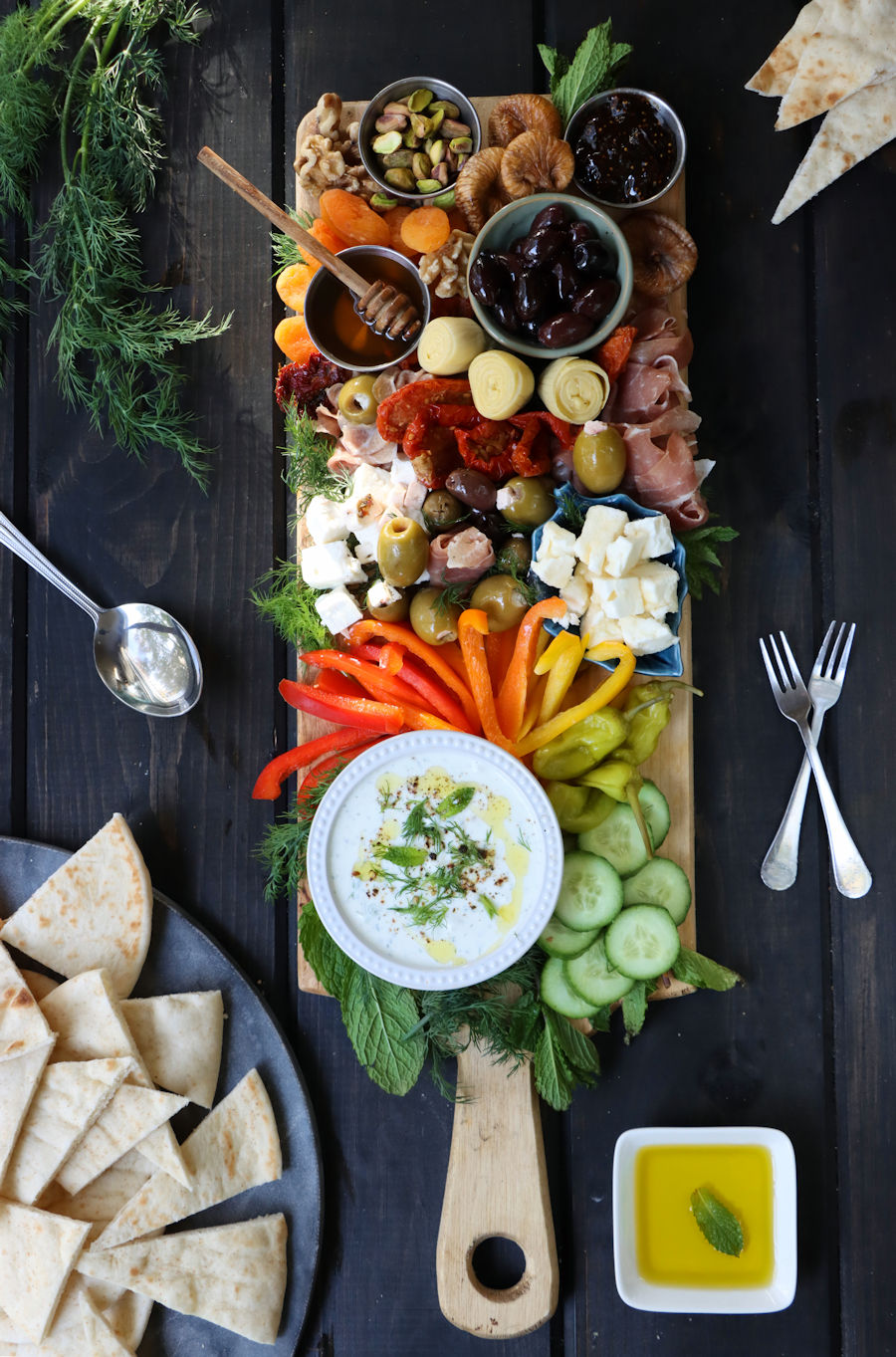 * This is a sponsored post written by me on behalf of Delta® Greek Yogurt.