The spinach and feta quiche is both beautiful and delicious! Bright green spinach mixes with tangy and creamy feta cheese crumbles in a silky cream for a delicious quiche.
This recipe will win the hearts and palates of anyone who eats it!
Spinach is a soft leafy green with so many nutrients. Its beautiful color and simple taste pair so well with feta cheese in this delicious quiche. Feta is a creamy, tangy Greek cheese that crumbles easily.
The Spinach and Feta Quiche has ingredients that distribute evenly throughout the custard, so each bite has spinach and a delicious burst of feta cheese.
To take your quiche up a notch, do it in my easy and amazing quiche crust. Quiches can be made with any combination of ingredients. Some of my favorites include a classic Quiche, Cheese and onion quicheand Quiche Lorraine.
Spinach and feta cheese are perfect for any meal of the day, from breakfast to dinner. And it is particularly elegant served during a brunch or a special occasion.
The beautiful bright colors are visually appealing and its flavor will receive rave reviews!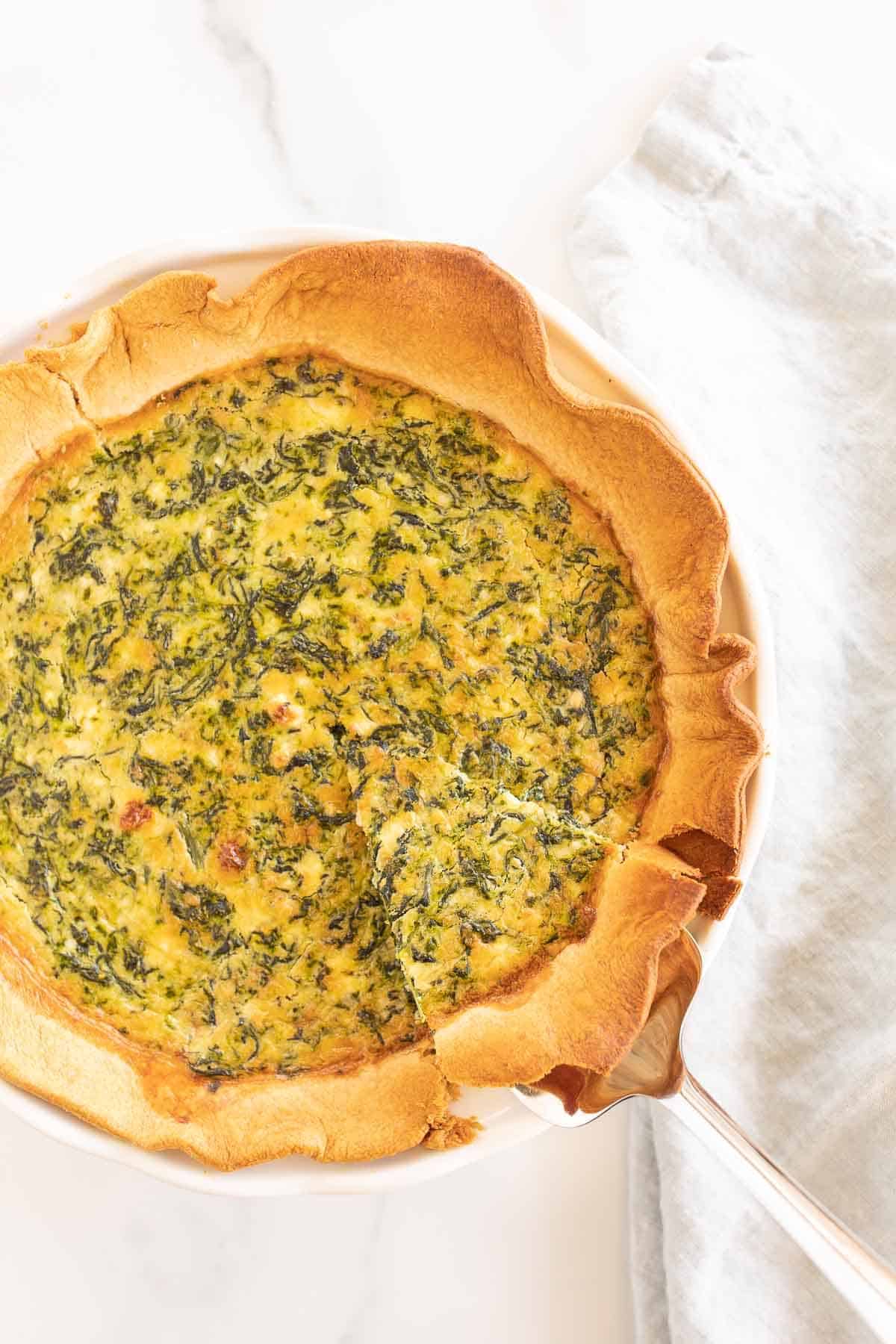 Why you'll love this quiche
Fast and easy
Elegant
Get ahead
Spinach and Feta Quiche Ingredients and Substitutions
Quiche crust – Use this amazing quiche crust, a classic homemade or store-bought pie crust, Cream Cheese Pie Crust or phyllo dough.
Eggs – Large eggs to make custard.
Heavy cream – Heavy cream gives the quiche the most luxurious texture and flavor, but you can use half and half the heaviest milk you have on hand, including whole milk, and dairy-free alternatives , including soy and almond milk (note this will change the flavor).
Feta cheese – Fresh crumbled feta cheese gives the creamiest texture and flavor.
Spinach – Fresh is my favorite, but you can use frozen – just squeeze out all the extra liquid once it's thawed.
Garlic – Chopped garlic adds a wonderful flavor to this quiche. You can use minced garlic or fresh minced cloves.
Salt – A hint of kosher or sea salt.
Pepper – Thick flakes of ground black pepper are preferred. I set the mill on the highest setting. It adds color and flavor.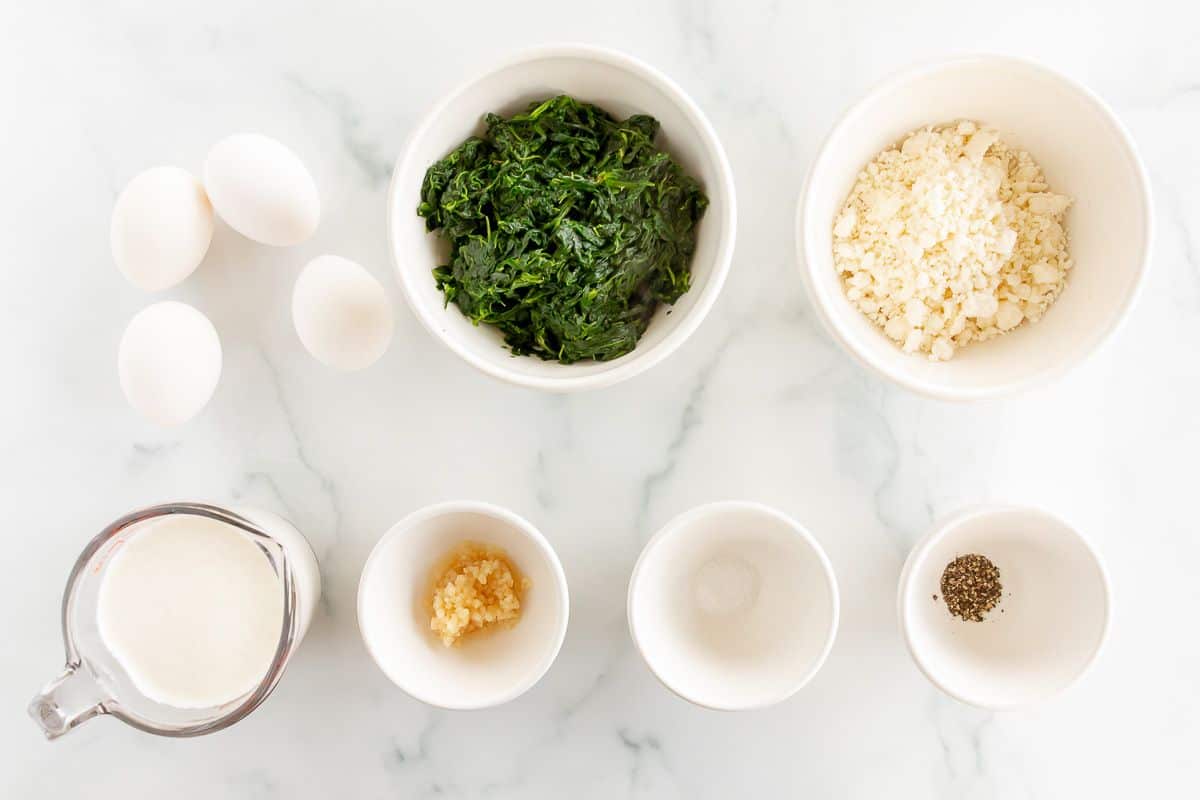 Variations
Spice up – Add ⅛ teaspoon of red pepper flakes or cayenne pepper.
Add onions or shallots – Caramelize the onions or caramelize the shallots for even more texture and flavor.
Add sausage or bacon – Incorporate precooked sausage or bacon in your quiche for a variety of meat.
How to make a spinach and feta quiche in four easy steps
You can get the full printable recipe below.
Preparation – Do not grease the baking dish. Preheat the oven to 375 degrees and blind bake the crust according to the directions on the recipe card.
Preparation for filling – Crumble the feta, steam and drain the spinach.
Combine and fill – Mix the egg and heavy cream until well combined. Add the spinach, feta, garlic, salt and pepper. Pour into the precooked crust.
Cook – Bake until the edges are just set, but the center is still unstable. Let cool 10 to 15 minutes before slicing and serving.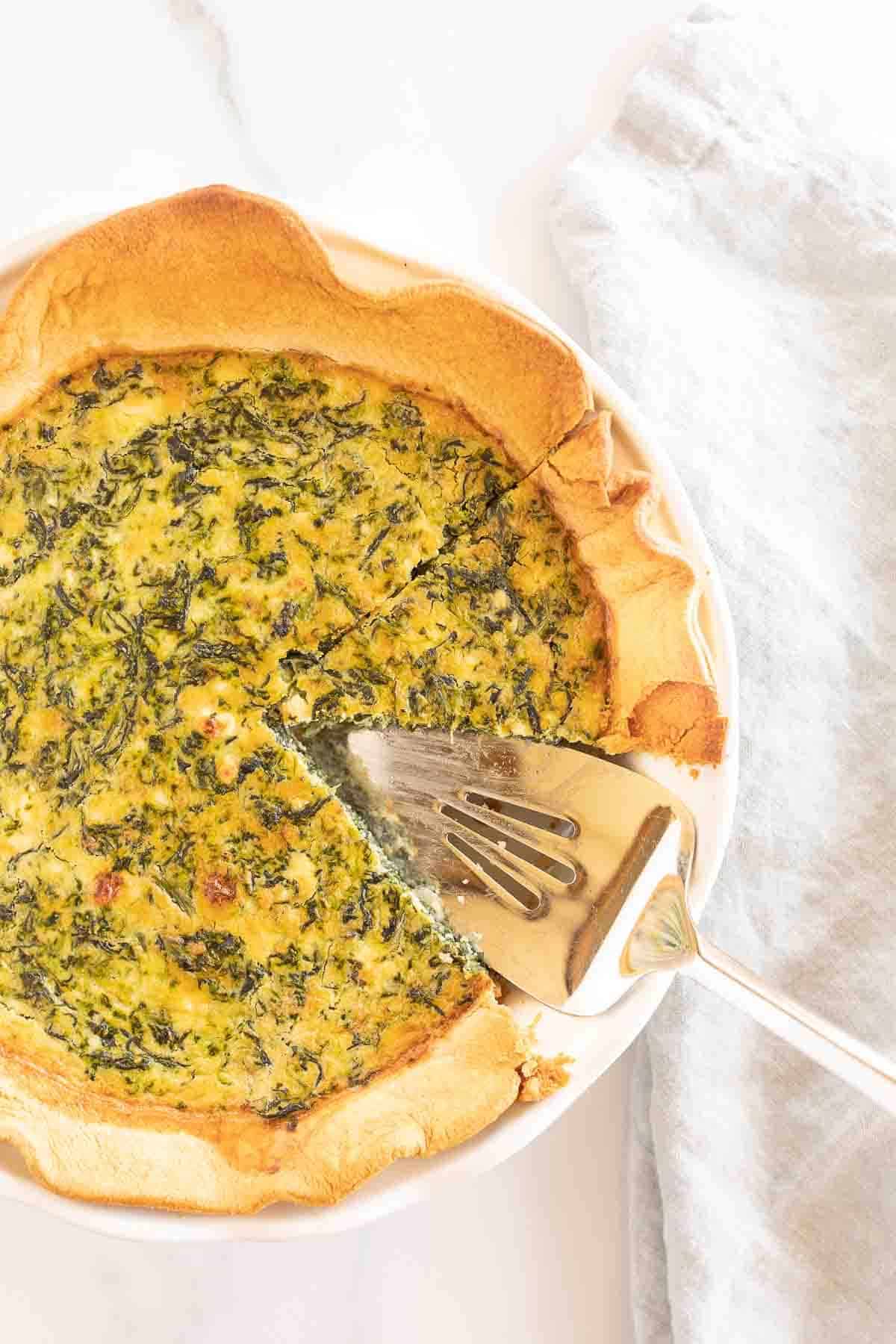 Advice
Precooked crust – Partial cooking (or blind cooking), the crust prevents the cream from seeping into the crust, which ensures that the crust and quiche cook evenly and remain crisp.
Protect the crust – Try the crust or use a pie crust shield to prevent it from browning too much.
Minimum water content – Drain the spinach well so that the quiche sets properly.
Do not overcook – Cook lightly under the quiche for a good texture. It should remain unstable in the center when you press on the edge of the dish.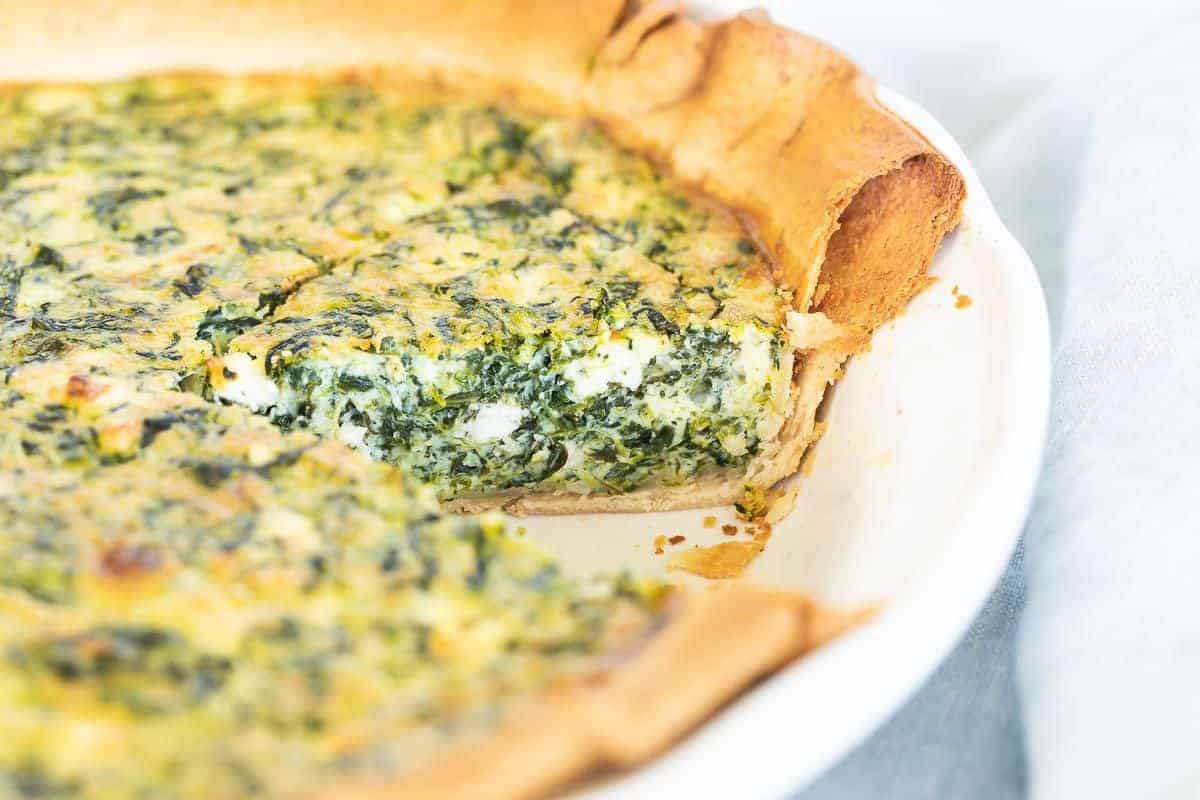 Increase, reduce or replace? You will love this printable Measurement conversion table!
Shortcuts
Prepare with a pre-made crust.
Use pre-crumbled feta cheese.
Frequently Asked Questions
How do you keep the quiche from getting soggy on the bottom?
First, blind bake the crust. This will help keep the crust crisp. Next, keep the moisture in the water out of the quiche. After rinsing the spinach, remove all the water so that it is dry when entering the quiche.
How can I make the quiche healthier?
You can replace the cream with half and half or with milk. This reduces calories and fat content. The cream makes the quiche creamy and delicious, but the milk still works and tastes great too!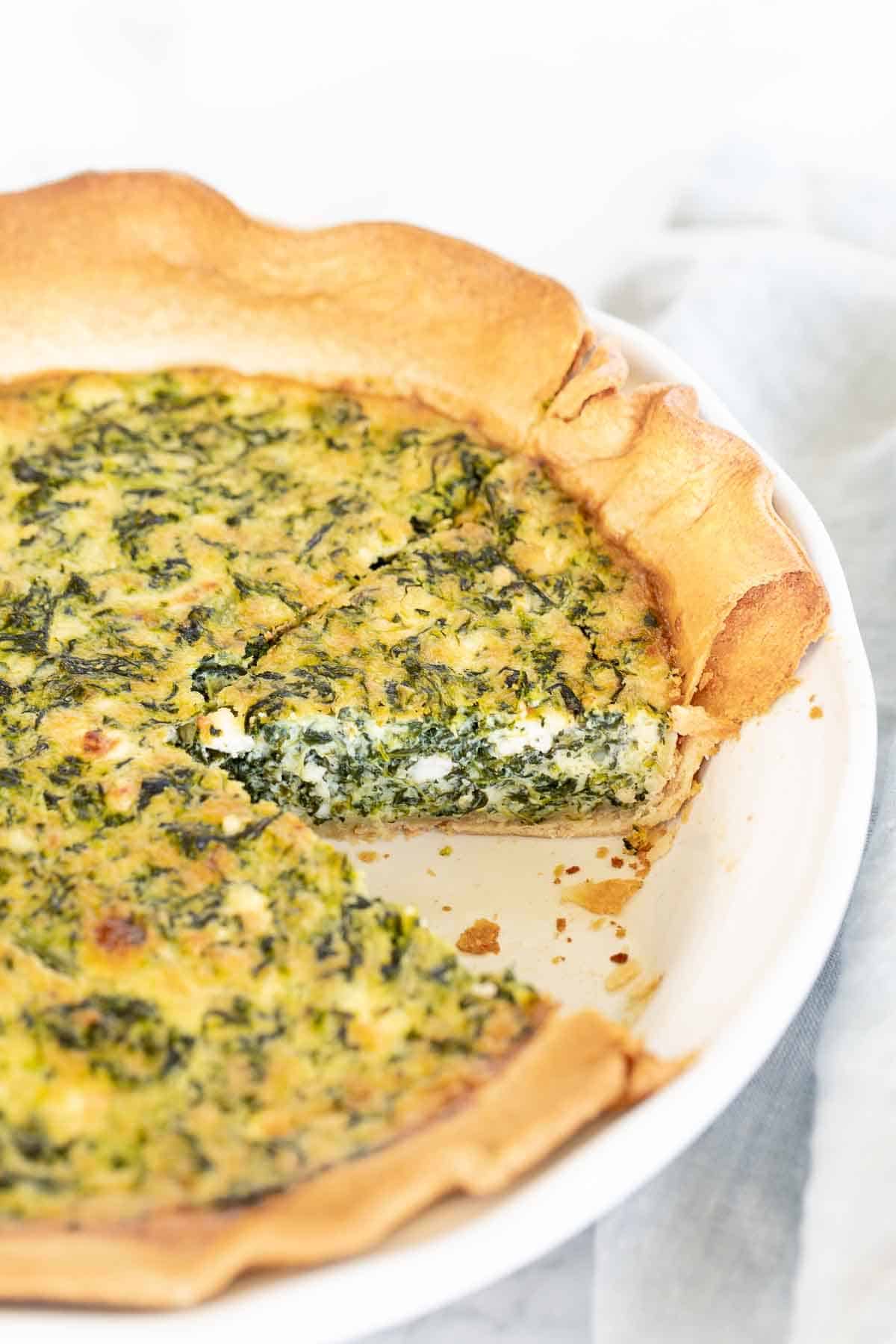 How to store spinach and feta quiche
At room temperature – A quiche cannot stay at room temperature for more than two hours.
Refrigerate – Cover the quiche with plastic wrap or place in an airtight container and store in the refrigerator for up to three days.
Freeze – Freeze the quiche in an airtight container for up to 3 months for best flavor.
What to do with the leftovers
Reheat in a 350 degree oven until hot.
Serve with a salad for lunch.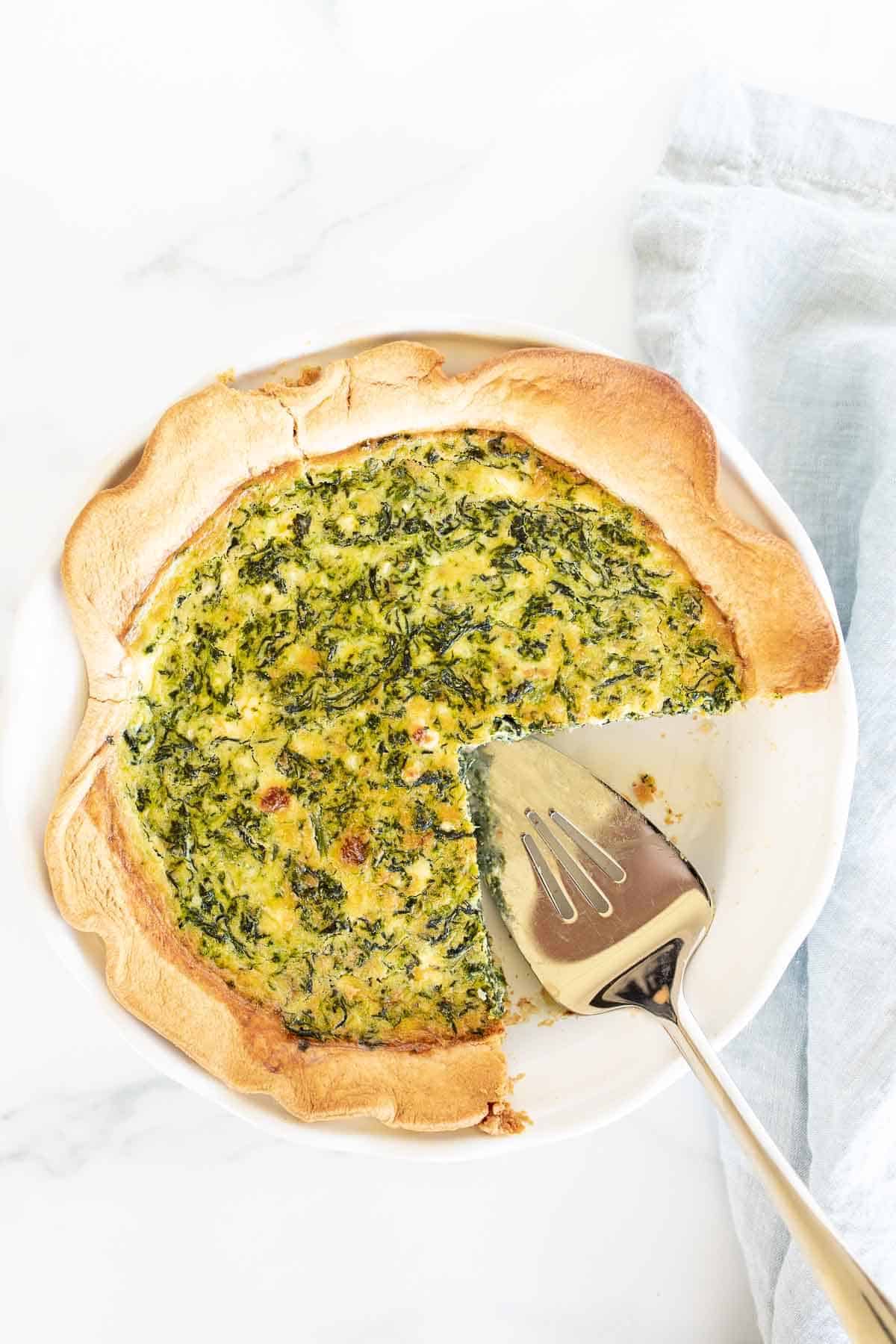 How to serve
Diet Considerations
Gluten free – Do it crustless! Simply grease your baking dish and pour in the garnish.
Dairy free – To make a dairy-free quiche, use soy or almond milk. Note that this will change the flavor.
Vegetarian
Nut free
Want easier recipes? Subscribe to my free recipe club and get amazing recipes straight to your inbox every week!
More easy recipes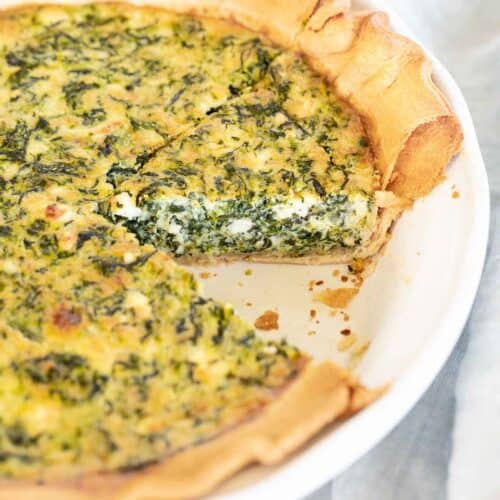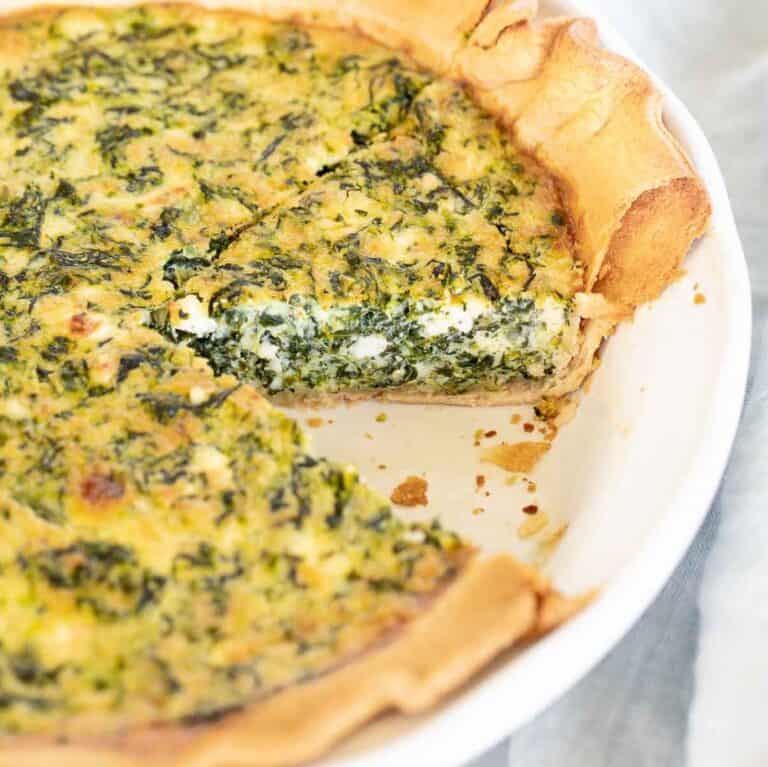 Spinach and feta quiche
Prevent your screen from going dark
Crust
Prepare a homemade or store-bought crust ahead of time so that it can be refrigerated and partially baked (up to 3 days in advance).

Preheat the oven to 375 ° F.

Place crust in an ungreased quiche, pie or pie dish.

Cover with parchment paper to fill the mold. Fill the dish with pie weights (or beans).

Bake for 15 minutes or until edges are lightly browned. Remove parchment and pie weights. Using a fork, poke holes and bake for 7 minutes or until the bottom of the crust looks set and no longer moist. Remove from oven and let cool (or cover and refrigerate if prepared ahead of time) before filling.
Quiche
Reduce the oven temperature to 350 ° F.

Steam spinach according to package directions. Drain and set aside.

In a large mixing bowl or stand mixer fitted with the whisk, beat eggs, cream, salt and pepper for 1 minute on high power or until combined.

Stir in spinach, feta, garlic, salt and pepper until blended.

Pour the spinach and cheese filling into the crust. Tent or use a pie crust shield to prevent excessive browning. Bake in the oven until the edges are set (about 35 to 40 minutes). The center should move slightly when the edge of the dish is tapped. Do not overcook for best results.

Let cool 10 to 15 minutes before slicing to serve. Serve hot or at room temperature.
mini quiche – Use a large cookie cutter to cut pie crust and fill muffin cups or phyllo shells on a baking sheet. Fill with cream and toppings. Bake for 25 minutes or until edges are set and center is slightly shaken.
Get ahead – The quiche can be made ahead of time and then reheated. You can simply assemble your quiche as directed and bake in the fridge when you're ready. However, you run the risk of a soggy crust with this method.
Another option is to cook your quiche completely, then let it cool before refrigerating or freezing and reheating for serving. You can also blind bake your crust and make your filling and store it separately in the fridge, combining it to bake when you're ready.
Tidy
At room temperature – The quiche cannot stay on your counter for more than two hours during service.
Refrigerate – Pack in an airtight container and store for up to three days.
Freeze – In an airtight container, the quiche can be frozen for up to three months. Although it may last longer, it will start to lose its fresh flavor after this point.
Calories:348kcalCarbohydrates:15gProtein:9gLarge:28gSaturated fat:12gTrans fat:1gCholesterol:147mgSodium:249mgPotassium:143mgFiber:1gSugar:2gVitamin A:691UIVitamin C:3mgCalcium:171mgThe iron:1mg