Russell Wilson must mend relationship with his O-line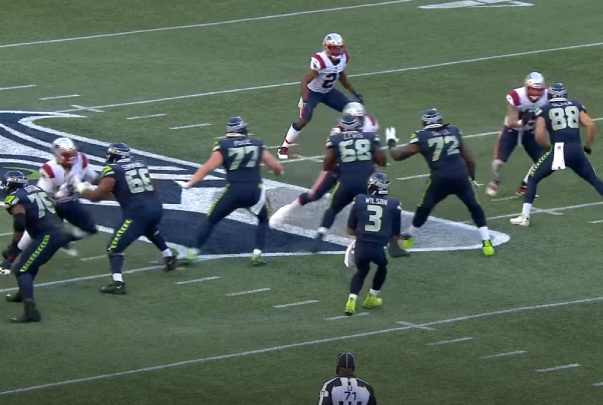 Before the start of the 2021 season, Seattle Seahawks quarterback Russell Wilson needs to get it right with his offensive line after throwing them under the bus in an interview.
Now, Seattle Seahawks the fans know the quarterback all too well Russell wilsonThe post-Super Bowl rant on the Dan Patrick Show. There is no need to rehash it here. But if Russ and the team have to move on, some sort of fence repair should be done.
Wilson and the front office
Wilson directed a fair amount of venom at the front office. Seattle Seahawks general manager John Schneider and head coach Pete Carroll are big boys. It is in their job descriptions to accept criticism. Russ's remarks came somewhat unexpectedly, which created some tension. If the relationship had been so bad, it would now have gotten worse (see Deshaun Watson and Aaron Rodgers).
Earlier this week, Carrol was on the Rich Eisen show. He called the situation "old news". We'll see what happens when the camp opens and everyone is in the same building.
Wilson and the offensive line
Anyone who watches football sympathizes with a quarterback who is too touched. This was one of the biggest takeaways from the DP Show interview. Since 2012, Wilson has been the most sacked quarterback in the NFL. Outperform your peers by a wide margin. This does not include the hard punches he takes after dropping the ball. Russ has had enough. Carroll can't be happy either and the 12 don't want to see him.
Give Schneider and Carroll credit, they listened. As a result, Wilson got much of what he wanted on the pitch.
Schneider has taken steps to improve his offensive line. When Mike Iupati retired, he opened a hole in the left guard. Seattle sent their fifth-round pick to the Raiders for custody Gabe Jackson, then signed Jackson for an extension. They also re-signed the center Ethan Pocic and drafted tackle Stone Forsythe in the seventh round.
Have the Seahawks finished their offensive line? Probably not, but it's close. It is a reasonable assumption. Right tackle Brandon shell because he hasn't been shown to be a consistent pass blocker.
Even with changes, Wilson needs to get on the same page as his linemen. The last thing any QB should do is tick off the men protecting him. Whether in the form of one-on-one or group meetings, Russ needs to let offensive linemen know that he appreciates them. How he does it is probably irrelevant. That he does is crucial.
Do you think Russell Wilson needs to catch up with his offensive line? Let us know in the comments section below or on social media.