Caltex Accelerates Network Growth in Q1 to Help Power Recovering Economy
Showing strong network growth in the first quarter of 2021, Caltex, marketed by Chevron Philippines Inc. (CPI), warmly embraces the dry season by strengthening its retail network with eight newly opened service stations and two Caltex Havoline autoPro workshop openings in key provinces.
By strengthening its network of nearly 650 service stations and 75 Caltex HavolineautoPro and bikePro workshops today, Caltex seeks to meet the fuel and auto maintenance needs of local and passing motorists across the country this season.
Travel better by refueling at more Caltex stations
Motorists heading north can stop to refuel at the recently opened petrol station in Brgy. Paras, Candon City, Ilocos Sur. Located along the south lane of the MacArthur Freeway, the gas station is now ready to serve motorists to and from Metro Manila and other provinces. Candon City is considered the 'Tobacco Capital of the Philippines' and also stands out for its C-shaped landmass.
Another Caltex station has opened in San Mateo, Isabela, ready to revive the daily trips of motorists in the region. This gas station is strategically located along the country's main transportation backbone, the Maharlika Highway, which connects Luzon, Visayas and Mindanao. San Mateo is also an agroecological zone known as the largest producer of mung beans or munggo in the countryside.
The second Caltex gas station in Naguilian, La Union has also grown to Brgy. Ortiz, the city's commercial hub. This station welcomes motorists to and from the city of Baguio. Naguilian is an agricultural town that is home to the original Basi, an indigenous fermented drink made from sugar cane.
In southern Luzon, Caltex recently opened two stations at PuloDiezmo Road, Cabuyao and Brgy. Tinga, city of Batangas, to supply quality fuels to private vehicles and commercial fleets circulating in the provinces of Laguna and Batangas. Cabuyao is often called the "city of the golden bell" while the cove-shaped city of Batangas is nicknamed the "industrial port city of CALABARZON". Both areas are home to historic sites, beaches, and gourmet cuisines.
Locals and tourists alike basking in the splendor of Palawan's tropical paradise can also refuel their vehicle tanks at the recently opened Caltex resorts to plan a blissful jaunt around the island. The three Caltex stations are located at South Road, Brgy. Bataraza, Puerto Princesa; South Road, Poblacion, Rio Tuba and North Road, Brgy. San Manuel, Puerto Princesa. Motorists can also choose to visit shopping stalls around bus stations for refreshments. Palawan prides itself on its pristine beaches and coastlines, picturesque cave formations, and popular delicacies.
The five Caltex stations deliver premium fuel that meets the Euro 4 standard Caltex with Techron to ensure better performance, cleaner engines and lower emissions for motorists. Caltex also maintains strict health protocols and offers cashless payment options to ensure safer journeys for motorists and to help the country recover.
Conquer longer roads with more maintenance centers
In addition to the openings of its service stations, two new Caltex HavolineautoProworkshops were also opened in Luzon and Mindanao. Ilocos Norte motorists who need a tune-up can make a pit stop at the recently opened Northbound Auto Care site, located in Brgy. 2 F. Julian Street, Pila Road, Laoag Town. Open Monday through Saturday, 8 a.m. to 5 p.m., this autoPro shop is ready to provide quality Caltex lubrication products and services, such as maintenance checks and auto repairs.
The second recently opened Caltex Havoline autoPro workshop is located along the Diosdado Macapagal Highway, bypass road, Ma-a, Davao City. In addition to its quality automotive products, this one-stop vehicle service shop has quick service bays for oil and fluid changes, auxiliary bays for minor repairs, and wash bays for cleaning. cars. It operates from 8:00 a.m. to 6:00 p.m. and is open Monday through Saturday.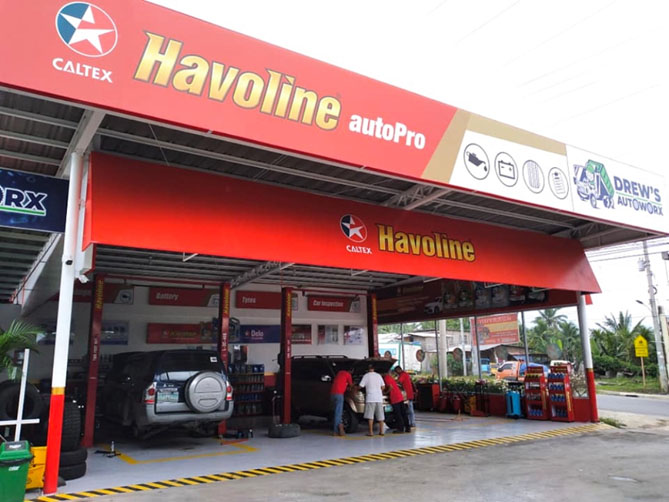 Motorists and reducers are guaranteed to have the best possible experience the moment they drive in the Caltex Havoline autoPro and bikePro workshops, as these sites have quality Caltex lubricants, are home to frontline staff, well-trained mechanics and modern facilities that can make them feel safe. . The two workshops respectively accommodate cars and motorcycles.
"Motorists can not only enjoy a wonderful, uninterrupted drive with our top-notch fuels and lubricants, but also enjoy top-level customer service, less waiting time for refueling with fuel options. more efficient digital payment and attractive rewards. Caltex continues to offer these services to provide a safer and next level travel experience for motorists nationwide. We also remain committed to expanding our network to remote parts of the country and to urban areas where commerce thrives to help support the Philippine economy. Sa Caltex, tuloy-tuloy ang biyaheSaid Billy Liu, country president of the IPC.
This year, Caltex continues to grow its retail portfolio by adding more Caltex stations and Caltex Havoline autoPro and Bike Proworkshops to serve many Filipinos across the country. Motorists can find the nearest Caltex station to their area at www.caltex.com/ph/find-a-caltex-station and the list of Caltex Havoline autoPro workshops at www.caltex.com/ph/motorists/products-and-services/havoline-autopro-workshop/.